Buy 3 Tires, Get 1 for $1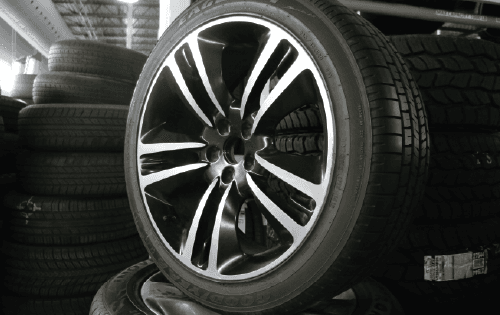 There's a difference between choosing tires and choosing the RIGHT tires. Many people don't know just how many different types of tires there are for your car, truck, or SUV. If that is the case with you, there is no need to worry. The professionals in the service department here at Bill Luke Tempe are here to help.
Here's a quick explanation of each tire type so you can determine what works best for your location and lifestyle. Most of these tire types can be found for a range of vehicles including cars, trucks, minivans, SUVs, and crossovers.
All-season tires: All-season tires are engineered for a smooth, quiet ride, fuel efficiency, and good tread life. However, because all-season tires are created to handle every season, they don't do well in extreme weather. They're great for drivers who live in places with mild winters, but they can't handle serious ice, snow, and sub-zero temperatures.
Winter/snow tires: Winter tires are great for the winter weather extremes that all-season tires can't handle. They're created from special rubber that doesn't stiffen in freezing temperatures, and they provide exceptional traction for road conditions like ice, slush, and snow.
Performance tires: High-Performance tires are created for drivers who really care about speed and performance. These tires grip the road like race tires, but they also have reduced tread wear ratings and typically don't last as long as other types of tires. You'll often see high-performance tires on sports cars.
Summer tires: Often, known as "regular" tires. These tires can handle three seasons out of the year and are not for the cold weather or snow. Summer tires provide excellent damp-road traction, so they're perfect for spring showers and summer thunderstorms. However, their soft rubber hardens when the temperature dips below freezing, making them insufficient for winter driving.
All-terrain tires: If you enjoy taking your vehicle off roads, all-terrain tires may be your perfect match. These tires are created to tackle all surfaces, from mud to sand to rocks – and they look heavy-duty too. These tires can certainly handle the beaten path as well! Take these bad boys on normal roads and highways and you'll experience the comfort and handling of every day "on-road" tires.
Touring tires: Touring tires are premium tires engineered for drivers who value smooth, comfortable driving and superior handling. They offer reliability, a long tread life, and minimum noise. Most touring tires are all-season and can handle the typical wet and dry conditions, but they cannot handle snow, freezing temperatures, and other extreme weather conditions.
Mud-terrain tires: Mud-terrain tires can handle soft surfaces, like deep mud and sand, better than any other tire. Consider mud-terrain tires a more aggressive variation on all-terrain tires! The deep, rugged tread pattern helps your vehicle get solid traction on the least solid terrains. Their intense design is perfect for off-roading, but won't be quite as smooth, silent, or comfortable on normal roads.
Spare tires: A spare tire can save the day. For spares, you have the option to get a full-size or compact tire. A full-size tire is simply the fifth tire for your car. Pop it on your car when one of your tires fails and you're good to go. A compact tire is a temporary fix and does take up less room in your car than a full-size tire will. A compact spare will get you to the auto shop so you can get a new tire.
All of the different types of tires might be overwhelming. Get your new Alfa Romeo or Fiat tires at Bill Luke Tempe today. Our friendly service team will be happy to get your vehicle in optimal condition for your end-of-summer road trip. For a limited time, Buy 3 Get 1 Tire for $1.00 during our tire promotion October 1st -November 31st, 2018 – Schedule your appointment today online or call 602-336-1444.