State of the Art Service Department

WHAT to look for when servicing your vehicle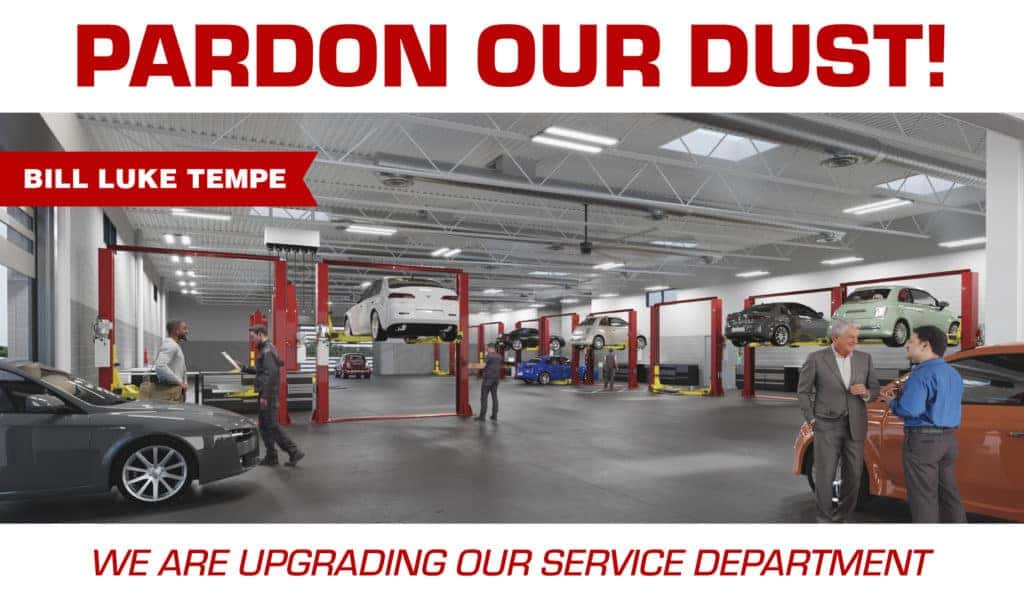 Most people would agree that caring for your vehicle with all its necessary maintenance is something that requires high priority. What most people may not know is that part of that necessary care starts with the service center that you take your car to. Luckily for our Tempe residents & neighbors, Bill Luke Tempe is proud to announce that it is constructing a state-of-the-art service center for all vehicular needs. That's right, we said vehicular needs. Much like people, vehicles need to be maintained, and that starts with our up and coming service center!
So… what does one look for when deciding where to service their vehicle?
We believe that the following four components are not only what defines a service center, but also what makes our service center an example to follow.
·        Service Guaranteed
Whether you're getting something as simple as a tire rotation, or more complex work like a rear-axle fluid replacement; take comfort knowing your vehicle is being serviced by professional and certified technicians. Part of our mission boasts the importance of quality service, and that is why our new service center will show 17 state of the art bays! This will allow for an increase in vehicles being serviced which means shorter wait times!
·        Excellent Customer Service
Where we believe our excellent customer service begins and ends, is with our employees. At our service center you can come in knowing that you will be greeted by a friendly team member. Our team will address your vehicle's needs while giving you accurate and transparent recommendations if there is any additional service needed. If a repair is needed, rest assured knowing that our team explains the information in a way that is easy to comprehend. The last thing you want to do is walk out of a service center and not know what is going on with your car!
·        Positive Word of Mouth
When thinking about where to service your vehicle, it's a given that you won't visit the first business you see on the side of the road. You will more than likely do your due diligence and ask friends or family where they take their vehicles to be serviced. If you are the type to ignore family/friend recommendations, then you more than likely trust in online reviews and recommendations from strangers. Regardless of where you find your answers, know that Bill Luke takes pride in its positive reputation from both word of mouth and online reviews. 

·        Customer Experience
Now, we live in a world where people love an experience. Shouldn't that also include the experience you get when waiting for your car to be serviced? We agree that customer experience is everything, and ours always begins with having our service center clean. You will walk into our service center and notice that the floors have been polished to ensure there isn't any fluids or ugly spots. While you wait for your vehicle, we welcome you into our clean and comfortable waiting area where you can enjoy a cup of coffee and a pastry, assuming Jeff from accounting didn't take the last one.
Stay tuned for the grand RE-opening of our new and improved service center. We can't wait to see you there in February 2020!
ENJOY THESE BENEFITS WHEN servicing your vehicle at Bill luke