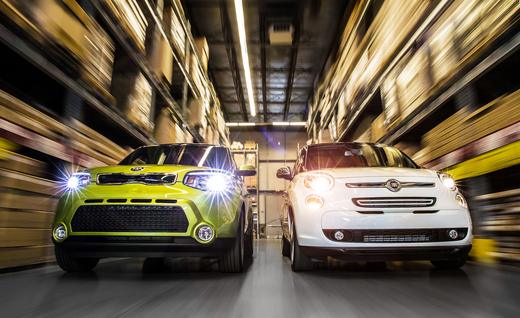 Are you debating between the Fiat 500L and Kia Soul? Let us help you out:
Buy a Fiat!
We are a little biased, but let us give you 3 reasons
WHY
:
Bill Luke Fiat doesn't sell Kia's. Seriously, Bill Luke has been family owned and operated since 1927. There are not many family owned dealers left, and we have been successful because we take great care of our customers!

Both are fast, but the 500L is faster. Top speed of the 500L is 126 MPH, compared to a slow 117 MPH for the Soul.
500L has better fuel economy. Even with that higher top speed you get 33 MPG on the highway, compared to the 31 MPG of the Soul.
The FIAT 500L is one of About.com Best New Cars of 2014. Click here to read more.
There are tons of comparisons to be made, before you buy we recommend at least test driving a 500L - you won't regret it. Pick your test vehicle out by clicking on the link below:

CLICK HERE TO VIEW OUR 500L INVENTORY
Data here was pulled from Car and Driver, comparing the 500L Lounge and Kia Soul.